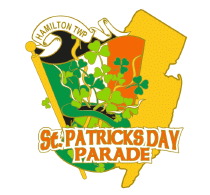 <!!--COLUMN 2--!!>




BASKET OF CHEER RAFFLE |
Various Liquor – Wine – Beer. Total Value $500. Donation $1 - (Winner must be at least 21 years of age). Drawing At Hibernian Hall on Thursday December 14, 2017 at 8:00 pm. To Promote Ethnic & Cultural Events & Fund. The Hamilton St. Patrick's Day Parade [ID# 495-53-4300; RL# 147-17]. Tickets are available at the Hibernian Club, From any committee member, or contact Vince McKelvey @ 609/775-5761.

Download the Flyer
Tom O'Reilly named 2017 Hamilton St. Patrick's Day Parade grand marshal!

Criminal justice and homeland security expert Tom O'Reilly will make sure the 2017 St. Patrick's Day Parade in Hamilton is safe and fun.

That's because O'Reilly has been chosen as the parade's grand marshal.

A longtime Hamilton resident, O'Reilly has dedicated his entire career toward keeping people safe. He currently serves as director of the Police Institute at the Rutgers School of Criminal Justice. He previously worked at the U.S. Department of Justice as a senior policy advisor and as director of a key counterterrorism collaborative known as the Nationwide Suspicious Activity Reporting Initiative.

O'Reilly, 67, also worked for the state of New Jersey. He retired in 2006 as the administrator of the New Jersey Department of Law and Public Safety.

As 2017 grand marshal, O'Reilly will lead off the St. Patrick's Day Parade in Hamilton. The 1.5-mile-long parade is scheduled to commence Saturday, March 11, 2017.
Shannon McLaughlin named 2017 Miss St. Patrick.

Shannon McLaughlin is the proud daughter of Jamine and Denis McLaughlin. She is currently a senior at Nottingham High school. Shannon is currently in the National Honor Society, National Art Honor Society, and National Science Honor Society.

She is also a three sport athlete, playing field hockey as goalie, ice hockey and a four year varsity lacrosse player. Additionally, school activities include the NJFEA, the Key Club Editor in Chief and, a 2 year co-captain for the backstage crew. This year's play is Tarzan.

Outside of school, she volunteers with the Hibernian fish fry. When she was younger her mom and her sponsored walks raised money for the March of Dimes. Shannon was a part of DeNogla Irish dance school for 13 years, even earning a regional placement.

She has been accepted into Montclair State University where she wants to continue her education as an athletic trainer or as a high school history teacher.

In her essay for the Miss St. Patrick contest Shannon wrote that her family among others helped her push through the hard times to make it to where she is now. This is when she started to realize how much her Irish heritage meant to her.

In middle school and high school she had a desire to share her heritage with others and the Irish dancing did that. In school she is known as the Irish dance girl. She is proud of her heritage and nothing can change that.


<!!--STOP. NO TEXT BELOW THIS LINE--!!>