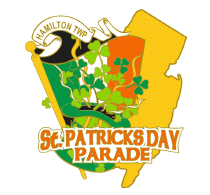 <!!--COLUMN 2--!!>
St. Patrick's Day Parade and Scholarship Committee Cheesecake Fundraiser

Orders due by 12/8/23

Pick up at the club 12/15/23 5:30-7:30

Contact Maryann Herncane 609-462-8494 or Mary Jauss 609-462-1953

Flavors available:
Plain/Classic – Classic, creamy vanilla cheesecake complete with a buttery, graham cracker crust $20
Strawberry Swirl – Creamy, classic cheesecake swirled with homemade strawberry preserves on a buttery graham cracker crust $20
Snickerdoodle – A delightful cheesecake version of your favorite cookie with cinnamon chips and a cinnamon sugar topping $20
Box O'Bites – 25 Pieces – 5 pieces of 5 flavors! Amaretto, Cannoli, Cranberry Orange, Cookies & Cream, Plain (Assortment subject to change) $25


Interested in applying for our 2024 Miss St. Patrick's Scholarship?



2023 MISS ST. PATRICK | Eva Kelly

Last year, the St. Patrick Parade & Scholarship Committee @Hamilton selected Steinert High School senior Eva Kelly as its 2023 Miss St. Patrick. As Miss St. Patrick, Eva received the $2,000 scholarship award and helped lead the 2023 St. Patrick's Day Parade.


Interested in applying to become 2024's Miss St. Patrick?

If so, CLICK HERE!
<!!--STOP. NO TEXT BELOW THIS LINE--!!>